Reforestation for people and the environment
Reforestation projects are at the heart of our work. And thanks to the development of natural resources, we can work with our partners to implement further consecutive projects that will improve the lives of farmers and their families in a sustainable way.

Native mixed forests provide a sustainable and precious contribution to people, to the environment and to climate improvement. Therefore, our reforestation projects are the first step towards the improvement of the living situation of farmers and their families in rural Ethiopia.

Forests store and filter water, regulate the hydrologic balance, the ground-water level and the amount of water in streams and rivers increases. Groups of farmers, women and youth in the reforestation areas are using this water to grow vegetables and fruit trees, which directly contributes to the improvement of their nutrition.

Farmers who are working voluntarily in our reforestation projects are supported by us in return with equipment, vegetable seeds and fruit trees seedlings – which improve their food and life situation.

Carrying heavy loads over sometimes long distances can be very trying for women and especially for girls. This work harms their health and prevents girls from attending school, sometimes partly, sometimes totally.

Through the school projects, young people learn about the benefits of trees, forests and fruits for humans, for animals and for the climate. They are educated in theory as well as with practical experience. This includes, besides lessons in the classroom, practical work in the orchards owned by the school.
All the projects and activities of the foundation Green Ethiopia aim to directly and indirectly improve the lives of farmers and their families, and offer them a fulfilling future in their ancestral homeland. Reforestation projects are the first step and the focus of all project activities. They are part of the following cycle:
Trees – Forests – Water – Food – Life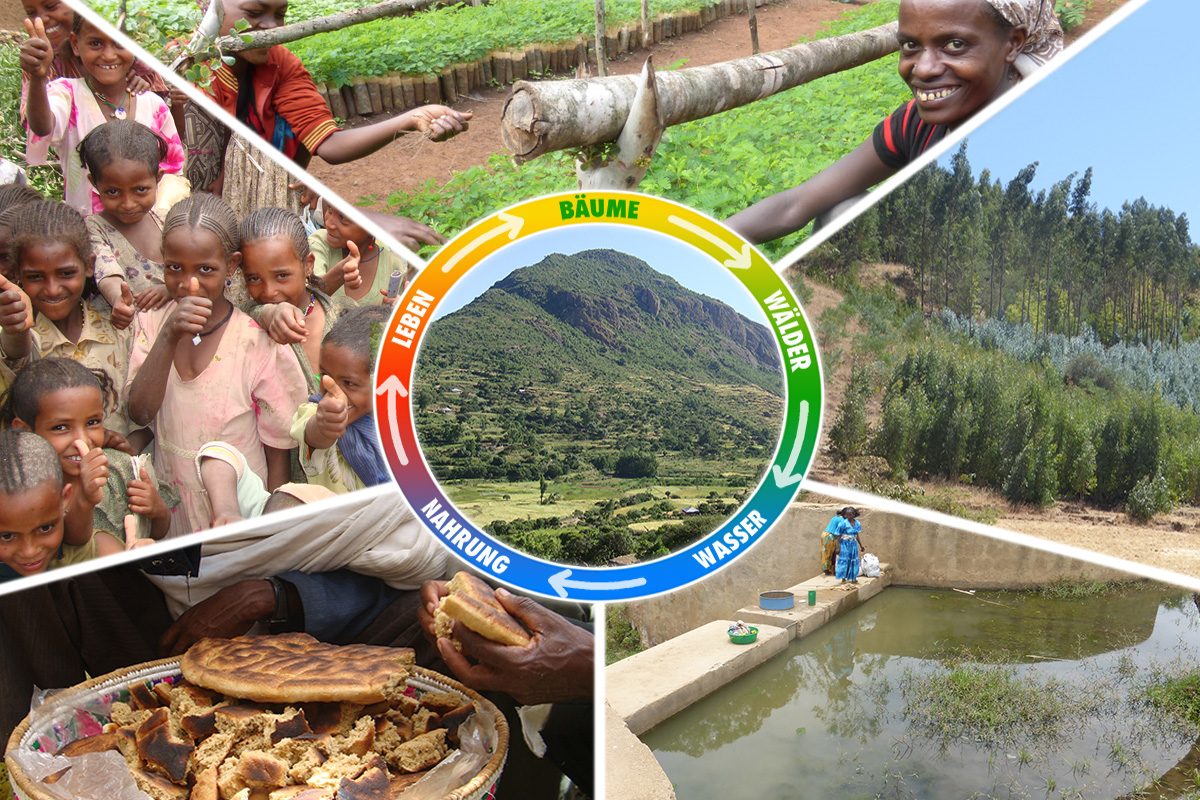 Forests provide multiple resources for mankind and the environment. They improve the micro-climate and water storage, and are preconditions for a sustainable improvement of human and food situation in the project areas.

Thanks to the reforestation, people and animals can use the important and precious water during several month instead of only during the short rainy season. Water allows irrigation, vegetable production, cultivating fruit trees orchards, and water near villages also during the dry season.

Water from forests and fertile soils enables farmers to increase their crop production and yield from their files. The available food becomes wider and more diverse. Vegetables, fruits, milk, eggs and honey contribute significantly to a healthier diet, even during the dry season.

Thanks to the improved food security and the additional income gained, farming families are looking to the future with hope and confidence. They remain sedentary, they can provide school access for their children and they are finally able to live independently.
News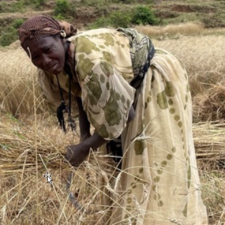 Impressions from the trip to our project areas in the Sidamo region in the south of Ethiopia and the Tigray region in the north of Ethiopia. Our board member Nicole Fritschi accompanied the visit to the Sidamo region… Read more